PRESENTATION 003 , CARVILIN TAB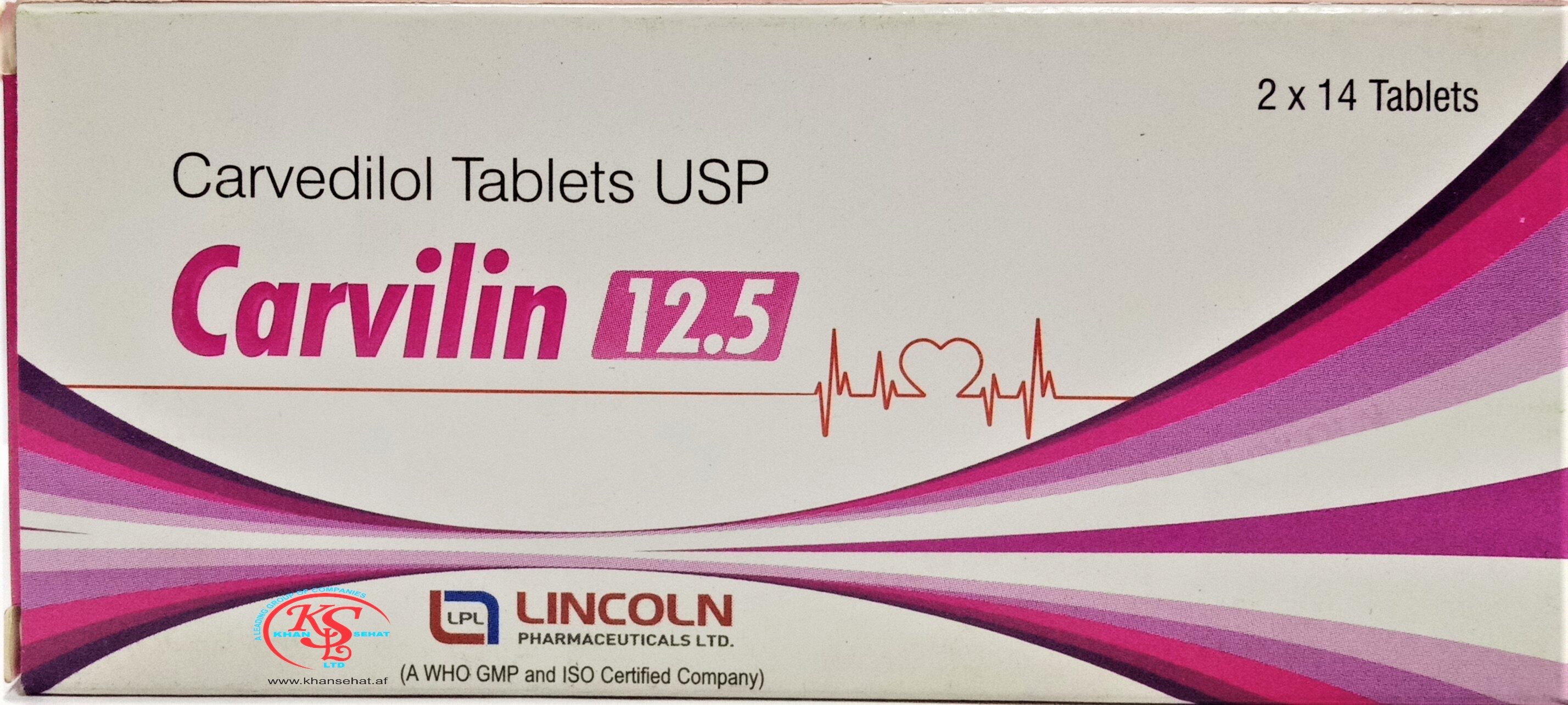 CARVILIN TAB
(Carvedilol 12.5 mg)
INTRODUCTION
Carvedilol

is a third-generation,

neurohormonal

antagonist with multiple activities.

It blocks both β

1

- and β

2

-adrenergic receptors, enhances

vasodilation

via α

1

-adrenergic blockade, and, at high concentrations, has ion channel–blocking activities.

In addition to these well-known properties,

carvedilol

has a number of ancillary activities, including antioxidant, anti-inflammatory, and

antiapoptotic

properties.

Together, they contribute to the clinical efficacy of

carvedilol

in a broad spectrum of patient types and may also confer a range of cardio protective benefits.
CARVILIN TAB
Carvedilol 12.5 mg
ALPHA AND BETA-BLOCKERS

α

1

present

in (R+) and S(-)

enantiomers

at equal potency.

Reduce the peripheral vascular resistance.

β

1

- present in S(-)

enantiomer

.

Suppresses

reninangiotensin

through non-selective β

1

-blokade.
INDICATIONS
For mild to severe chronic heart failure of ischemic or

cardiomyopathic

.

In left ventricular dysfunction following myocardial infarction.

For the management of essential hypertension.
DOSAGE
Heart failure (3.215 mg) twice daily for 2 weeks.

Hypertension (6.25 mg) twice daily.

Left ventricular dysfunction following myocardial infarction (6.25 mg) twice daily.
Common side effects of carvedilol include

Dizziness

Fatigue

Low blood pressure (hypotension)

Weight gain

High blood sugar (hyperglycemia)

Diarrhea

Slow heart rate

Nausea

Atrioventricular

block, edema

Chest pain (angina)

Hpercholesterolemia

Hypertriglyceredemia

Vomiting

Indigestion

Light headedness/fainting

Runny nose

Cough

Headache




UNDERSTANDING

HOW THE HEART WORKS




The heart is the hardest working muscle in the

body.

The

average heart beats 100,000 times a day, day and night, to supply oxygen and nutrients throughout the

body.

Blood

pumped by the heart also shuttles waste products such as carbon dioxide to the lungs so it can be eliminated from the body.

Proper

heart function is essential to support life

.




WHAT

IS HEART DISEASE?




Coronary artery disease (CAD), commonly known as heart

disease.

A

condition in which cholesterol, calcium, and other fats accumulate in the arteries that supply blood to the

heart.

This

material hardens forming a plaque that blocks blood flow to the heart.

When

a coronary artery narrows due to plaque buildup or some other

cause.

The

heart muscle is starved for oxygen and a person experiences chest pain known as angina.

THE LINK BETWEEN HEART DISEASE AND HEART ATTACK

Sometimes a piece of a fatty plaque in a coronary artery breaks off or ruptures.
When this happens, a blood clot forms in the area in response to the injury.
The clot may block the flow of blood through the artery, causing a heart attack.
Sadly, some heart attacks lead to the heart stopping completely, a situation known as sudden cardiac arrest.
The heart may also start to beat in a very dangerous rhythm called ventricular tachycardia, which is potentially fatal.

HEART DISEASE: THE NUMBER-ONE KILLER

Heart disease is the leading killer in the United States and affects an estimated 14 million adults.
Heart disease is responsible for more deaths in the U.S. than the 2nd through 7th leading causes of death combined.

WHAT ARE THE RISK FACTORS FOR HEART DISEASE?

A.

Certain risk factors increase

the
chances of developing heart
disease.
B. More common heart disease risk
factors include:
High cholesterol
Diabetes
Heart disease in a close blood relative
Obesity
High blood pressure
Smoking
Peripheral artery disease (PAD)

WHAT ARE LIFESTYLE RISK FACTORS FOR HEART DISEASE?

Certain lifestyle factors and
choices increase the risk of
heart disease including:
Companies