Pa 12 (Paracetamol Sustained Release Tablets 1000mg) : PRESENTATION 009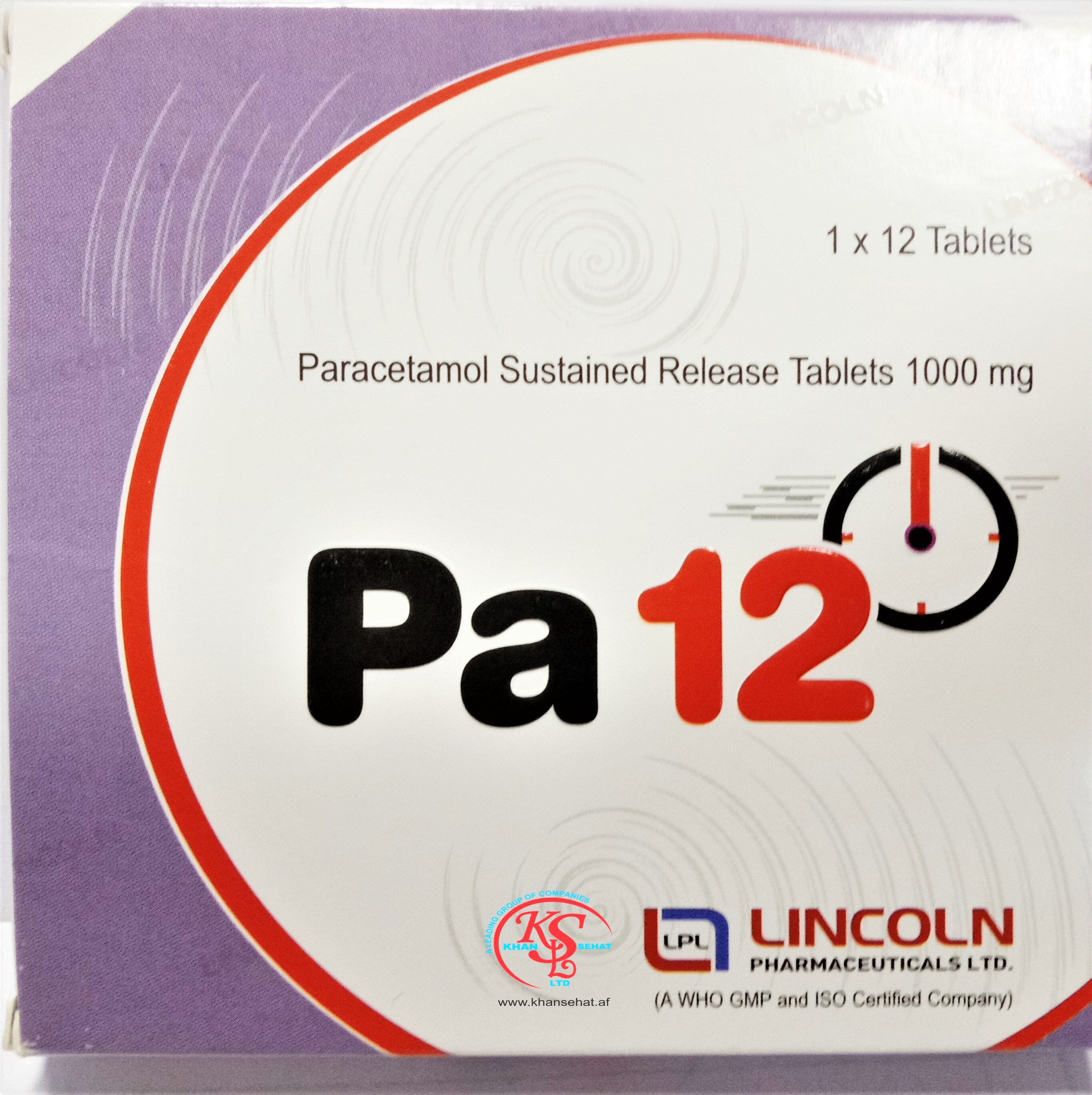 Pa 12
Paracetamol Sustained Release Tablets 1000mg
COMPOSITION
Each uncoated bilayered tablet contains:
Paracetamol PB 300 mg.
(As Immediate Release).
Paracetamol BP 700 mg.
(As Sustained Release).
PHARMACOLOGICAL CLASSIFICATION
Analgesic Agent.
Antipyretic Agent.
PHARMACOLOGICAL ACTION
Paracetamol, Para-aminophenol is a peripherally action analgesic and is well absorbed orally.
Paracetamol produces analgesia by elevation of the pain threshold and antipyresis through action on the hypothalamic heat regulating center.
PHARMACOKINETICS
Oral paracetamol is rapidly and almost completely absorbed from the gastrointestinal tract primarily, in the small intestine, with negligible absorption occurring in the stomach.
The relative bioavailability ranges from 85% to 98%.
Each Pa 12 tablets contains 300 mg immediate release in one layer.
700 mg sustained release designed to release slowly in other layer.
In vitro data indicate that Pa 12 tablet release 90% of drug within 8 hrs.
INDICATIONS
Fever.
Acute pain.
Chronic pain.
For faster treatment of pain or fever when other routes of administration are not possible.
CONTRAINDICATIONS
Known hypersensitivity to paracetamol or any ingredient in the formulation.
PRECAUTIONS AND WARNING
Pa 12 should not be administered with caution to patients with hepatic or renal dysfunction.
Not recommended for children under 12 years of age.
Adults should not take Pa 12 for pain for more than 10 days or for fever for more than 3 days.
Sever liver damage may occur if adults take more than 4000 mg in 24 hrs.
DOSAGE FOR USE
Pa 12 tablets are to be administered orally, with or without food.
Adults and Children over 12 Years, one tablet orally twice daily.
ADVERSE EFFECTS
Dermatologic (Rash).
Endocrine and metabolic: May increase chloride, uric acid, glucose; may decrease sodium bicarbonate, calcium.
Hematologic: Anemia, blood dyscrasias (neutropenia, pancytopenia, leukopenia).
Hepatic: Bilirubin increased, alkaline phosphatase increased.
Renal: Ammonia increased, nephrotoxicity with chronic overdose, analgesic nephropathy.
Manufactured By: LINCOLN
Marketed By: KHAN SEHAT LTD